Studies on medical cannabis indicate that the relationship between cannabis and PTSD can be therapeutically advantageous as long as qualified products are used. A contextualized therapeutic strategy is used for each patient. More details are provided below.
Post-traumatic stress disorder (PTSD): diagnosis and treatment
Post-traumatic stress disorder (PTSD) consists of intense and dysfunctional reactions that start after a traumatic event, usually involving life-threatening situations for oneself or others. Certain examples are cases of urban violence, such as robberies, and kidnappings, abuse, accidents, and natural disasters.
Although the first symptoms may appear soon after the traumatic episodes, it is common for people to seek medical help only after suffering for a long duration with feelings of fear, anguish, and anxiety. Conventional treatment includes cognitive–behavioral therapy and the use of anxiolytic medications. However, several patients are refractory to these approaches. According to Koek et al. (2016), one-third of patients with PTSD do not respond to conventional treatments. In addition, between 45 and 60% of patients do not recover after years of treatment.
Cannabis and PTSD: can cannabinoid derivatives help with symptom relief?
Recently, scientific studies have been demonstrating the therapeutic potential of cannabis in relieving and combating the symptoms of PTSD. For instance, a study published in 2020 by experts at Washington State University analyzed a group of 400 patients with PTSD, all of whom were users of medical cannabis. The following were the short-term results:
62% reported a reduction in thoughts associated with the traumatic episode.
62% reported a reduction in flashbacks associated with the traumatic episode.
67% reported decreased irritability.
57% reported a decrease in anxiety states.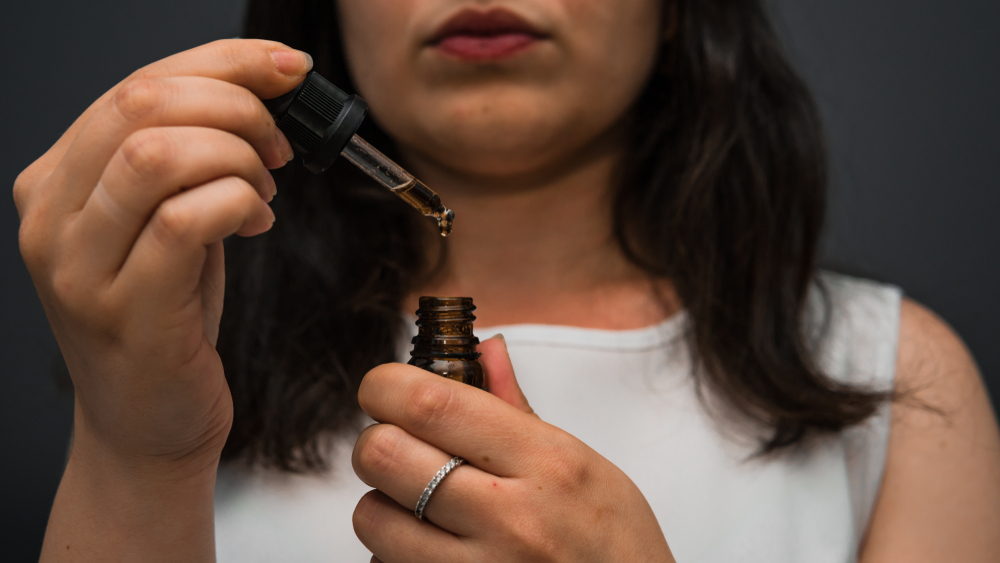 Outra pesquisa publicada em 2020 trouxe evidências claras quanto aos benefícios da Cannabis no tratamento do TEPT. Trata-se do estudo conduzido por pesquisadores da Faculdade de Medicina Perelman, da Universidade da Pensilvânia, na Filadélfia, Estados Unidos.
The research evaluated the relationship between cannabis and PTSD in two groups of patients diagnosed with the disorder, the first group treated with medical cannabis and the second, control group that did not use medical cannabis. 
During a 1-year trial, the group treated with cannabinoid derivatives reported more decrease in PTSD symptoms as compared with the group that used conventional medications.
In addition, patients who adhered to cannabis therapy were 2.6 times more likely to meet no longer the Diagnostic and Statistical Manual of Mental Disorders (DSM-5) criteria for PTSD.
CBD- or THC-rich extracts?
Phytocannabinoids can interrupt the consolidation process of traumatic memories in patients with PTSD as demonstrated by a study published in 2019 in a British scientific journal and conducted by the Department of Pharmacology at the Federal University of Santa Catarina. According to this study, CBD associated with THC assisted in weakening the traumatic memories of PTSD.
The study by Elms et al. (2019) evaluated the clinical benefits of CBD use for patients with PTSD. A total of 10 patients (91% of the sample) experienced a decrease in PTSD symptom severity, evidenced by a 28% lower score on the PTSD Checklist for DSM-5 (PCL-5) after eight weeks compared to the initial score. CBD was well tolerated, and no patient discontinued the treatment due to side effects.
The use of THC in treating PTSD has also been evaluated in clinical trials. In the study by Roitman et al. (2014), mild adverse effects were observed in three patients, none of which led to treatment discontinuation. The oral formulation of THC significantly improved the overall symptom severity, sleep quality, nightmare frequency, and hyperexcitement symptoms common in PTSD. Orally administered THC was safe and well-tolerated by patients.
Contact us and join the largest global community of studies in endocannabinoid medicine!
---
References
BONN-MILLER, Marcel; BRUNSTETTER, Megan; SIMONIAN, Alex; LOFLIN, Mallory J.; VANDREY, Ryan; BABSON, Kimberly A.; WORTZEL, Hal. O The Long-Term, Prospective, Therapeutic Impact of Cannabis on Post-Traumatic Stress Disorder. Cannabis and Cannabinoid Research., v. 5, 2020.
ELMS, Lucas et al. Cannabidiol in the treatment of post-traumatic stress disorder: a case series. The Journal of Alternative and Complementary Medicine, v. 25, n. 4, p. 392-397, 2019.
LAFRANCE, Emily M.; GLODOSKY, Nicholas C.; BONN-MILLER, Marcel; CUTTLER, Carrie. Short and Long-Term Effects of Cannabis on Symptoms of Post-Traumatic Stress Disorder. Journal of Affective Disorders, v. 274, Elsevier, 2020.
KOEK, Ralph J. et al. Treatment-refractory posttraumatic stress disorder (TRPTSD): a review and framework for the future. Progress in Neuro-Psychopharmacology and Biological Psychiatry, v. 70, p. 170-218, 2016.
RAYMUNDI, Ana Maria; SILVA, Thiago R.; ZAMPRONIO, Aleksander R.; GUIMARÃES, Francisco; BERTOGLIO, Leandro J.; STERN, Cristina A. J. O A time‐dependent contribution of hippocampal CB1, CB2 and PPARγ receptors to cannabidiol‐induced disruption of fear memory consolidation. British Journal of Pharmacology, v. 177, 2020.
ROITMAN, Pablo et al. Preliminary, open-label, pilot study of add-on oral Δ 9-tetrahydrocannabinol in chronic post-traumatic stress disorder. Clinical drug investigation, v. 34, n. 8, p. 587-591, 2014.